The King Of Musang King
Showing Today
The King Of Musang King showtimes today, The King Of Musang King online ticket booking available in all over movie theaters in Malaysia & Singapore such as TGV, GSC, MBO Cinema, LFS, mmCineplexes, Shaw Theaters, Cathay Cineplex, Golden Village and more.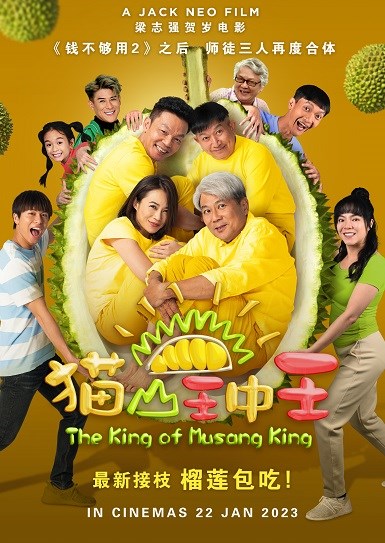 Trailer & Synopsis
Dumped by her husband Jin Shui for a Vietnamese lady, Mei Lian continues to tend to the durian plantation left to her by her late father while she single-handedly raises her three children. Mei Lian wants to pass down the business to her children but there are tensions especially when her youngest son does not share her vision. All this while, Mei Lian develops feelings for her childhood friend Mao Shan, who has been secretly admiring her through the years. Unexpectedly, Jin Shui returns to the durian plantation after 20 years when he realises that his Vietnamese love interest was only after his money, jeopardising Mei Lian and Mao Shan`s relationship.
The King Of Musang King is now showing in cinemas since January 22, 2023 until today
SHOWTIMES IN KUALA LUMPUR
(Today) Feb 06, 2023
Change location
You are currently viewing The King Of Musang King showtimes for today in Kuala Lumpur, to change the location, simply click the City option above. The King Of Musang King ticket price also informed in the showtime list, the ticket price shown is based on the first showtime, the next showtime's price maybe different.
To buy The King Of Musang King ticket online, click at the showtime button below.