Tribesman: The Last Red Hunter
Showing Today
Tribesman: The Last Red Hunter showtimes and ticket price, book your ticket online for Tribesman: The Last Red Hunter here! Available for all cinemas like TGV, GSC, MBO Cinema, LFS, MMC, Shaw Theaters, Cathay Cineplex, GV and more.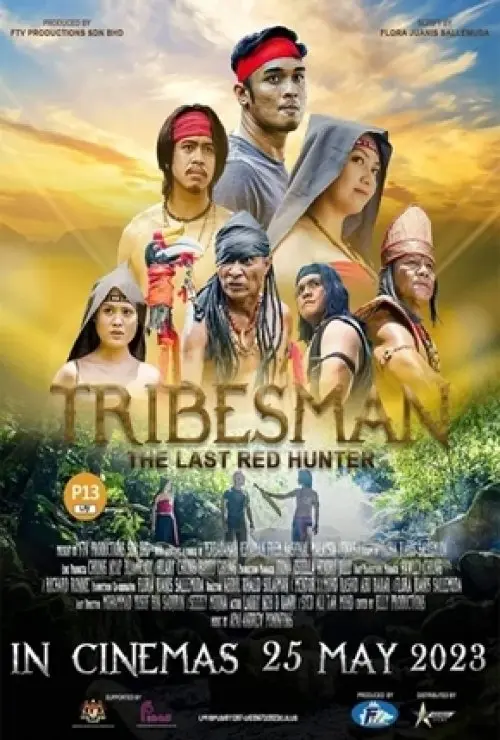 Trailer & Synopsys
Tells the story of Azhar mysteriously realizing that he is in a world that is so foreign to him. He was captured by a group of young natives led by Antura. He was imprisoned for being considered a bringer of calamity to the natives. He was released by a native girl one night and he ran away aimlessly. Confused and exhausted, he finally passed out. A mute native youth saved him. Finally, he was accepted by the clan leader Aki Andik but was not liked by Antura. Antura conspired with the evil clan leader Sinungka to kill Azhar, but Sinungka had other intentions because Antura's father's staff was in his hand. The situation turned bad when Sinungka attacked Aki Andik's village and Aki Andik was killed. Antura blames Azhar but finally Aleea tells the truth about who Azhar is. Finally, Antura & Azhar work together to rescue Amea who was arrested & kill Sinungka. Azhar also mysteriously disappeared.
Tribesman: The Last Red Hunter is now showing in cinemas since May 25, 2023 to May 31, 2023
SHOWTIMES IN KOTA KINABALU
(Today) Jun 01, 2023
Change location
Tribesman: The Last Red Hunter showtimes in Kota Kinabalu today, to change the location, simply click the City option above. Tribesman: The Last Red Hunter ticket price also informed in the showtime list, the ticket price shown is based on the first showtime, the next showtime's price maybe different.
To buy Tribesman: The Last Red Hunter ticket online, click at the showtime button below.
Tribesman: The Last Red Hunter showtimes in CITY CINEPLEX Kota Kinabalu
Regular
Ticket price RM 10
Phone: (+6) 088 210 110