Mummies
Showing Today
Mummies showtimes today, Mummies online ticket booking available in all over movie theaters in Malaysia & Singapore such as TGV, GSC, MBO Cinema, LFS, mmCineplexes, Shaw Theaters, Cathay Cineplex, Golden Village and more.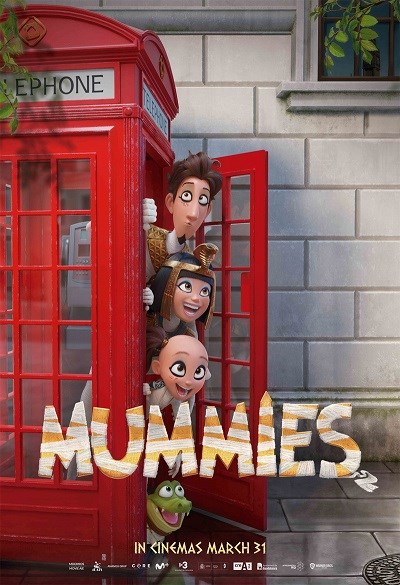 Trailer & Synopsis
In the bowels of the earth, there is a city of mummies! By imperial mandate, Princess Nefer must marry Thut. None of them wants marriage; Nefer because she craves freedom, and Thut because he is allergic to marriage. But the designs of the gods are irrevocable: Thut must marry Nefer in seven days and bring to the wedding the royal ring that Pharaoh has given him intact. In the meantime, on the surface of the earth, Lord Silvester Carnaby conducts an archaeological expedition and finds the Egyptian Royal wedding ring! Thut must now go to the human world to retrieve it. He is accompanied his 12-year-old brother, with his crocodile pet, and Nefer. Together they will live a great adventure in modern London and discover something that was not in their plans: falling in love.
Mummies is now showing in cinemas since January 19, 2023 until today
SHOWTIMES IN KUALA LUMPUR
(Today) Feb 06, 2023
Change location
You are currently viewing Mummies showtimes for today in Kuala Lumpur, to change the location, simply click the City option above. Mummies ticket price also informed in the showtime list, the ticket price shown is based on the first showtime, the next showtime's price maybe different.
To buy Mummies ticket online, click at the showtime button below.