Club House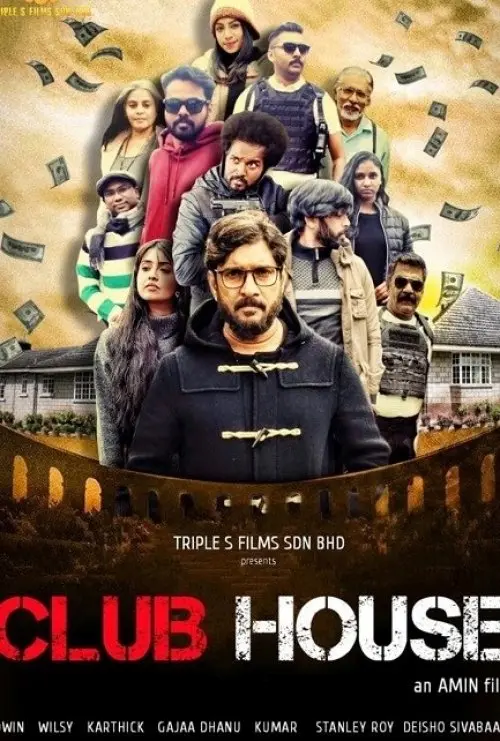 Trailer & Synopsys
First ever Malaysian movie shot entirely without any cuts for 118 mins continuously.
The movie CLUB HOUSE is a robbery thriller story. Among the main characters involved in this film are Arun, Vikram, and Yogi, Priya, Inspector Steeve, ASP Kesavan and Sharon .The robbery was done by the three robbers on one Money Changer when the owner brought a large amount of money. Some shooting action a shooting ensued and the owner of the Money Changer was shot and hospitalized for intensive care. Then, the robbery money was taken by the robber to somewhere bungalow and a group of robbers discuss ways to bring out the money safely robbed.
They plan to send the loot money to Hongkong as soon as possible and then leave for that country. In the investigation, Party The police found several clues to solve the robbery case. In the bungalow On the other hand, a fierce argument took place between Arun and Vikram which led to fighting action. Finally, Arun is shot dead by Vikram. They wrapped the body Arun and ready to go out when Priya arrived with the other friends the bungalow to celebrate Arun's birthday. Arun's body was hidden in the Hilux stopped in front of the bungalow. Priya gets worried and meets with Inspector Steeve to help him find Arun. Inspector Steeve who has succeeded collect a lot of evidence and meet Yogi and Vikram who are preparing to leave with a bag full of money.
A fight broke out between them and Inspector Steeve is shot. Suddenly Arun appeared who pretended to be dead and conspires with Vikram. Vikram shoots Yogi and Arun shoots Vikram and hiding money in hilux tires to take away. He rearranged the situation murder and pretending to be a victim in front of the police. Inspector Steeve is rescued by the police and he suspects Arun and calls Arun to station for further investigation. In conclusion, this film emphasizes that there is no one who can escape from the law.
Club House is showing in cinemas since July 06, 2023 to July 19, 2023