She Said
Showing Today
She Said showtimes today, She Said online ticket booking available in all over movie theaters in Malaysia & Singapore such as TGV, GSC, MBO Cinema, LFS, mmCineplexes, Shaw Theaters, Cathay Cineplex, Golden Village and more.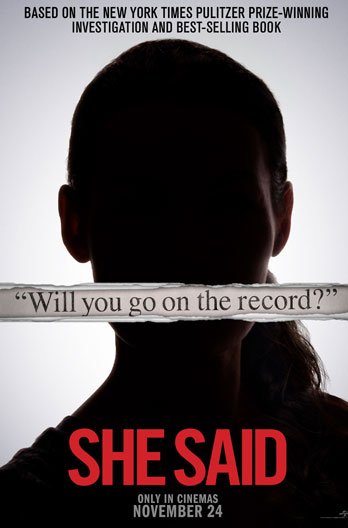 Trailer & Synopsis
Two-time Academy Award® nominee Carey Mulligan (Promising Young Woman, An Education) and Zoe Kazan (The Plot Against America limited series, The Big Sick) star as New York Times reporters Megan Twohey and Jodi Kantor, who together broke one of the most important stories in a generation--a story that helped propel the #Metoo movement, shattered decades of silence around the subject of sexual assault in Hollywood and altered American culture forever.
She Said is now showing in cinemas since November 24, 2022 until today
SHOWTIMES IN KUALA LUMPUR
(Today) Dec 02, 2022
Change location
You are currently viewing She Said showtimes for today in Kuala Lumpur, to change the location, simply click the City option above. She Said ticket price also informed in the showtime list, the ticket price shown is based on the first showtime, the next showtime's price maybe different.
To buy She Said ticket online, click at the showtime button below.