Love Today
Showing Today
Love Today showtimes today, Love Today online ticket booking available in all over movie theaters in Malaysia & Singapore such as TGV, GSC, MBO Cinema, LFS, mmCineplexes, Shaw Theaters, Cathay Cineplex, Golden Village and more.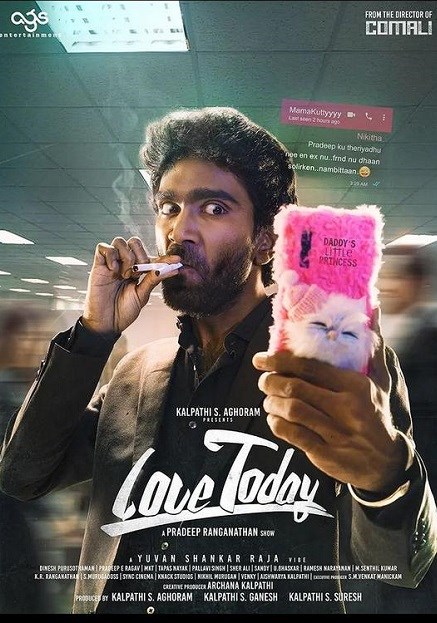 Trailer & Synopsis
Imagine a world where the criteria to get married to your loved one is to explore each other's phone. A witty father lays such a trap to make his daughter realise how much she knows about her lover. The girl thinks she knows in and out of the boy and so does the boy. What happens from there is the rest of the movie.
Love Today is now showing in cinemas since November 04, 2022 until today
SHOWTIMES IN KUALA LUMPUR
(Today) Dec 02, 2022
Change location
You are currently viewing Love Today showtimes for today in Kuala Lumpur, to change the location, simply click the City option above. Love Today ticket price also informed in the showtime list, the ticket price shown is based on the first showtime, the next showtime's price maybe different.
To buy Love Today ticket online, click at the showtime button below.
Lot L5.14, Level 5, NU Sentral, No.201, Jalan Tun Sambanthan, Kuala Lumpur
2D - Digital 2D
Ticket price RM 12
11:30 AM
02:35 PM
03:25 PM
05:40 PM
Phone: +60 3-2260 1157